Berlyn ECM has mastered the detailed technology that go into the design and construction of water baths
Although often overlooked, water baths can make thousands of dollars of difference in any plastics extrusion operation.
Our exacting attention to detail means our water baths provide uninterrupted cooling (which equals uninterrupted profits) by giving our customers nearly full control over every phase of the process.
Berlyn ECM Standard Water Baths are designed to fit many process requirements but can also be custom engineered to fit specific applications and facility dimensional needs.
Constructed of heavy gauge Type 304 stainless steel
Rugged carbon steel as well as stainless steel supports with casters
Vertical and lateral adjustment
Automated control of water temperature and flow
Water turbulence control
Adjustable, rotating, and non-rotating guide bars for precise control of strands
VIEW ADDITIONAL PHOTOS
CLICK TO VIEW LARGER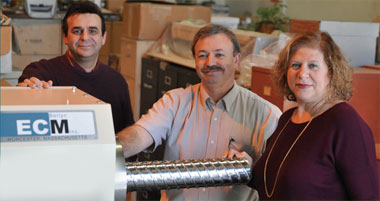 THE BOTTOM LINE
We're focused on your success
Our attention to detail and dedication to our customers' long-term success mean you can rely on Berlyn ECM equipment to get the job done, time and time again, for your company.

To learn more about Berlyn ECM machinery, call (508) 852-0040 or contact us here. We want to solve your plastic extrusion issues once and for all!